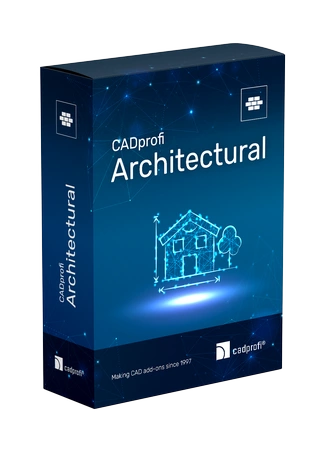 파라메트릭 기반 CAD응용프로그램으로 건축설계를 편리하게. Architectural 모듈은 시공 계획, 단면도, 정면도, 측면도를 만들 수 있습니다. 복합 벽, 건축용 치수, 도면 주석 등을 빠르게 생성할 수 있습니다. 또한 창문, 문, 가구 및 기타 객체의 포괄적인 라이브러리를 제공합니다. 이 모듈의 특징으로 비상 탈출 경로를 설계하는데 사용할 수 있습니다.
CADprofi Architectural module can be bought separately or in full
CADprofi Suite
package, which contains all 4 CADprofi modules for 50% of the price.
Designing stairs
Designing of stairs with the possibility of determining the dimensions and number of treads. Various types of stairs, incl. straight, spiral, L stairs, U stairs, U two-split stairs with a landing, stairs with storage, concrete, cheek stairs, shelf stairs, carpet stairs, stairs elements, from which user can build stairs with any number of treads, are available.
Designing roofs
Insertion of roofs with the possibility of calculating surface slopes, roof angles and its height.
Furniture library
Library of interior design and landscape architecture: furniture, sanitary equipment, electronics and household appliances, plants, vehicles, swimming pools, jacuzzi, saunas and others.
Parametric woodwork
Parametric woodwork (doors, windows, garage doors) with automatic detection of the wall thickness. Plan, cross-section, and elevation views are available. For parametrical objects user can specify any dimensions and properties.
Drawing walls
Drawing of single and multi-layered walls with the ability to define any material and thickness of each wall layer and the function of drawing walls with filled insulation.
Gutter systems
A rich library of steel, PVC and rectangular gutter systems as well as downpipes with elements of equipment and assembly accessories (hooks, drain funnels, bottoms, elbows, tees, internal/external corners, clamp connectors, spouts, settling tanks).
Architectural dimensioning
Architectural dimensioning that is suited for construction projects. Program allows user to change styles and dimension units regardless of which designing unit was used in the drawing (e.g. dimensioning in cm of drawing that were prepared in mm).
Room definitions
Automatic defining and marking of rooms with surface calculation. Configurable room descriptions.
Emergency routes
Drawing and editing emergency escape routes and plans. Library of symbols, marks and signs from the health and safety, fire protection and public information.
Evacuation plans and fire protection installations
CADprofi software is a comprehensive application that helps in designing in both construction and industry, with particular emphasis on plans and systems that ensure the safety of people staying in buildings.
Read more...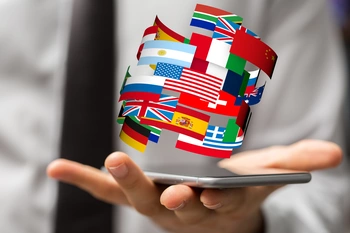 유니 코드 기반의 사용자 인터페이스는 25개의 언어를 지원합니다. 영어, 불가리아어, 중국어, 우크라이나 인, 크로아티아어, 체코어, 덴마크어, 네덜란드어, 핀란드어, 프랑스어, 독일어, 일본의, 그리스어, 헝가리어, 이탈리아어, 폴란드어, 포르투갈어, 루마니아어, 러시아어, 세르비아어, 슬로베니아어, 스페인어, 스웨덴어, 터키어를 지원합니다.

쉽게 프로그램 언어를 변경할 수 있습니다.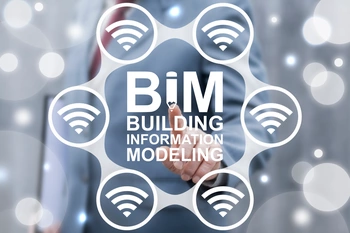 BIM (Building Information Modeling) technology is increasingly used in building design. Classification and management of layers based on Open BIM (IFC classification) is available in the CADprofi program. BIM data is included in specifications and can be transferred to applications that are used during the investment phase.
Additionally our company creates data in BIM (including rfa Revit format) for many manufacturers. 3D models included in our software can also be used in many CAD programs that allow to import and export files in IFC standard.
전 세계 수많은 사용자가 이미 CADprofi패키지를 선택했습니다. 이 사실은 우리가 새로운 버전을 출시 하여 다른 CAD응용프로그램과 완벽한 호환성을 유지하기 위해 주의를 기울이는 이유입니다. CADprofi는 선택한 소프트웨어 환경에 최적으로 호환될 수 있도록 자동으로 구성됩니다. (Bricscad, AutoCAD, ARES, ZWCAD, progeCAD
등 다른 모든 CAD프로그램
).
CADprofi에서 만든 도면은 DWG와 DXF파일과 완벽하게 호환되며 CADprofi없이 CAD프로그램에서 편집 할 수 있습니다.