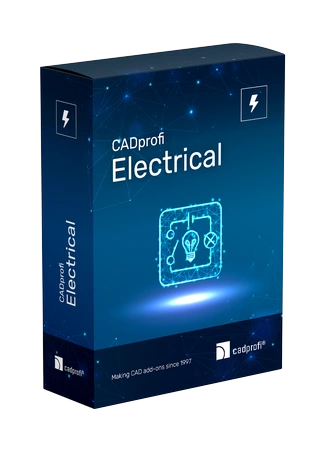 Program helps in designing of all electrical installations in both construction and industry. Thanks to scheme creator after selecting and placing the apparatus in the dialog window, user can automatically generate energy distribution schemes. Thanks to this, user can quickly prepare the project by focusing only on the selection of products and not on manual drawing.
CADprofi Electrical module can be bought separately or in full
CADprofi Suite
package, which contains all 4 CADprofi modules for 50% of the price. 
Key features:
Click on a feature to read more
Standardized symbols
Complete symbols of IEC, NFPA, ISO, PN and other libraries that have been prepared in accordance with both national and international standards. Symbols can be inserted with automatic positioning, line interruptions, automatic numbering and labeling.
Manufacturer libraries
Complete libraries of leading manufacturers (ABB, EATON, Schneider Electric, SIEMENS, Hager, Lovato Electric, ETI, Legrand, Cablofi, DEHN, Noark Electric, Schrack Technik, F&F, RELPOL, Pulsar and many others).
Electrical symbols
Designing on architectural plans, insertion of sockets and connectors, deployment of lighting fixtures, designing linear lighting and power of any energy type. Program also possesses the possibility to configure junction boxes with any configuration of sockets and connectors.
Addressing and numbering
Quick addressing of objects and numbering of electrical circuits with automatic control of numbering correctness.
Modular apparatus
A rich library of general views of modular apparatus, including: protection, control, switching, signaling, measuring, industrial, panel and switchgear apparatus.
Switchboards
A rich library of general views of modular, meter, multimedia, hermetic, flush-mounted and surface-mounted switchboards (distributors). Flush-mounted, surface-mounted and floor-standing system cabinets with elements of the development system and additional accessories: DIN TH35 mounting rails, busbars, comb channels.
Cable routes and busbars
Designing cable routes with usage of convenient commands for drawing sequences of cable trays, ducts and cable ladders with automatic insertion of appropriate fittings. Cable trays can be drawn automatically along the indicated infoline. Designing busbars installations with the possibility to work in 2D or 3D.
Cooperation with DIALux
Possibility to import luminaires from DIALux. During import all luminaires will be replaced with standard CADprofi blocks and information about them (name, type) will be taken from DIALux and replaced with appropriate attributes.
Cabinets selection
Automatic generation of 2D views based on symbols used in the project. Automatic selection of cabinet with the possibility of determining the space reserve for the needs of possible future expansion.
Schemes creator
Are you tired of drawing schemes manually? Would you like to generate them automatically?
There is a way! In CADprofi program, after selecting and placing the apparatus in the dialog window, you can automatically generate energy distribution schemes. In this way, you can quickly prepare the project focusing only on the selection of products and not on manual drawing.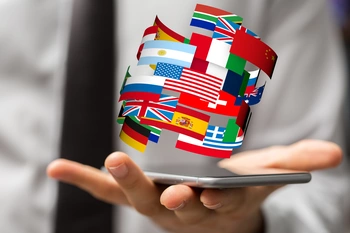 Multilanguage
Application available
in 25 languages.
The Unicode based user interface supports 25 languages, i.e. English, Bulgarian, Chinese Simplified, Croatian, Czech, Danish, Dutch, Finnish, French, German, Greek, Hungarian, Italian, Japanese, Korean, Polish, Portuguese, Romanian, Russian, Serbian, Slovenian, Spanish, Swedish, Turkish and Ukrainian.
You can easily change the language in the configuration program.
Our software is available through well developed distributors network in many countries, thanks to this you can have direct support in your native language.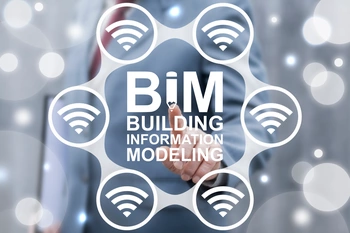 BIM
Possibility to create data
in BIM technology.
BIM (Building Information Modeling) technology is increasingly used in building design. Classification and management of layers based on Open BIM (IFC classification) is available in the CADprofi program. BIM data is included in specifications and can be transferred to applications that are used during the investment phase.
Additionally our company creates data in BIM (including rfa Revit format) for many manufacturers. 3D models included in our software can also be used in many CAD programs that allow to import and export files in IFC standard.
Tens of thousands of users from all over the world have already chosen the CADprofi package. This is the reason, why we always take care to preserve full compatibility with other CAD applications in every new version of our software. Our applications will automatically configure itself to be optimally compatible with any selected software environment (AutoCAD, ARES, BricsCAD GstarCAD, progeCAD, ZWCAD, IntelliCAD and
many more
).
Drawings created in CADprofi are fully compatible with DWG and DXF formats and can be edited in any CAD application without the need to run and use our software.
Check requirements...